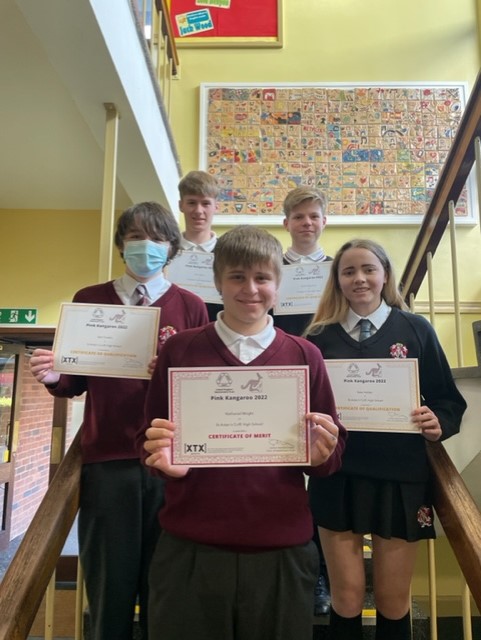 The Intermediate Maths Challenge is run by the UK Mathematics Trust and supported by the Institute and Faculty of Actuaries. It is aimed at students in Years 9, 10 & 11 and in March over 60 of our KS4 students took part in the Intermediate Maths Challenge.
Over 200 000 pupils across the UK sat the challenge, and nationally, the top 6% were awarded a gold certificate, the next 13% silver, and the next 21% bronze. When the results came in our students had achieved 5 golds, 7 silvers and 18 bronzes.
Approximately 8000 of the top students in the country are invited to sit a follow-on multiple choice Pink Kangaroo Round. Five students from Saint Aidan's were invited to take part this year. They were Sam Franklin & Nathaniel Wright from Year 10 and Ansel Hargreaves, Kate Holden & Evan Martin from Year 11.
Nathaniel achieved a Merit certificate for his performance in the challenge achieving a mark of 92. This puts him in the top 7% of the students who completed the challenge.  It's a fantastic achievement and we are looking forward to seeing what he can achieve next year.  Well done to everyone who took part and, especially, our five certificate winners.