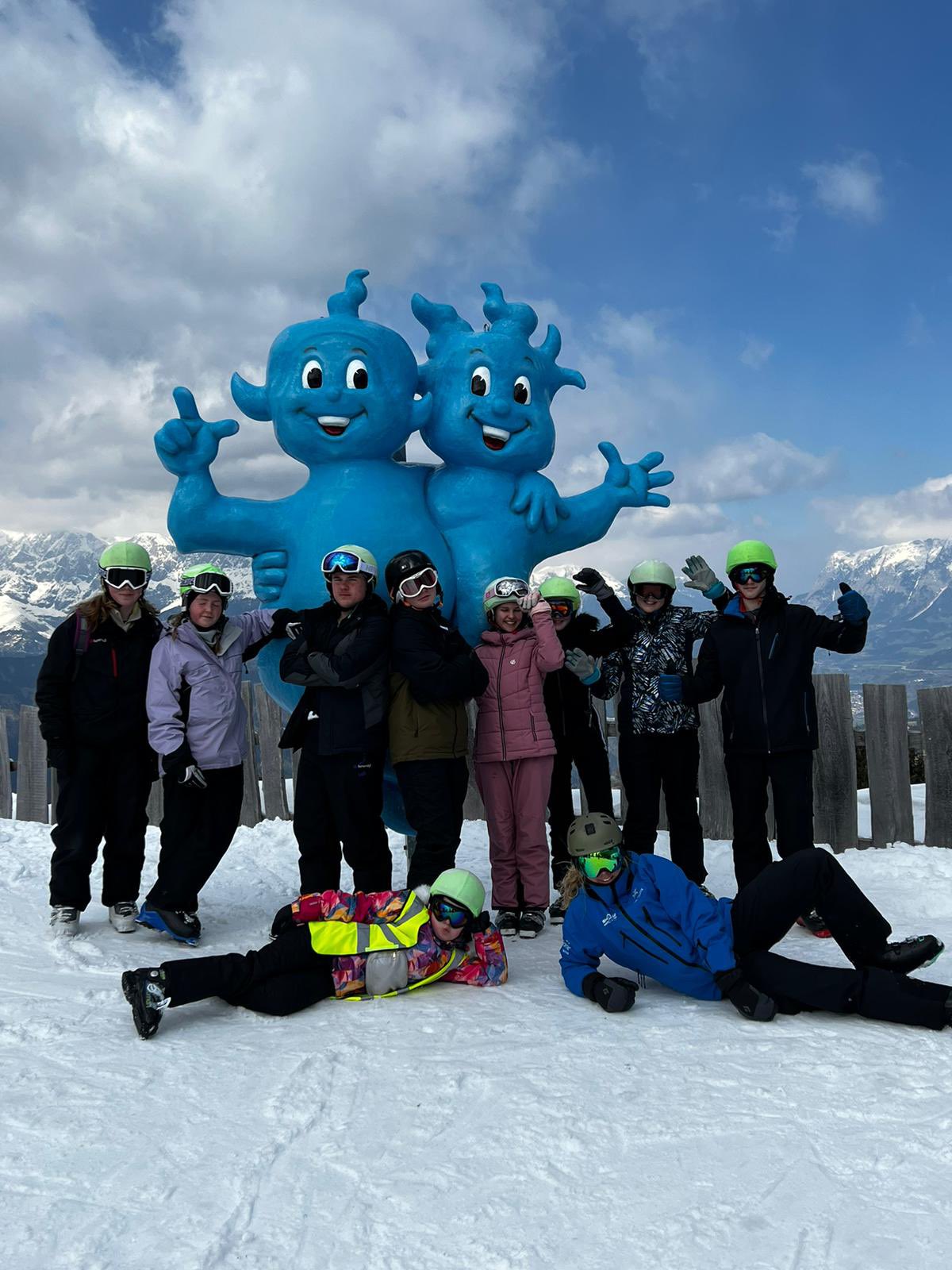 On Saturday 1st of April we set off on our journey to Austria. After a late arrival to the hotel we got some much needed rest before 5 incredible days of skiing. 
The first day began with a leisurely breakfast at the hotel before heading out to collect our ski gear and meet our lovely instructors! Once we were all geared up, we took a short trip up the mountain on our first chair lift of the trip – the perfect way to begin the fun-filled days which followed – and got into groups based on our previous skiing experience. Most began on the beginners' slope where we received a 'crash course' on how to ski and learned all the basics before stopping to refuel for a delicious lunch at the picture-perfect chalet style restaurant nearby. After lunch we continued moving up the beginners slope to improve our skills and ensure we were mountain ready for Day 2. Later that evening, we were treated to a trip to the local pizza restaurant to enjoy some delicious, albeit salty, pizzas followed by the announcement of our first 'Dope on the Slope' and 'Star of the Day' winners before heading back to the hotel and off to bed to rest our aching legs. 
After a good nights sleep and some breakfast at the hotel everyone was eager to get back out on the slopes for our second day of skiing, and for some groups the first day on the more advanced mountain ski runs! After a quick recap on the beginners slope, we set off up the mountain – marvelling at the breath taking views along the way. After many falls, from not so graceful tumbles to whole-group wipeouts, we stopped for lunch at a different restaurant, higher up the mountain than the previous one, and were delighted to discover it had a slide down to the toilets – which naturally we all had to try! We then headed back out onto the slopes for an action packed afternoon. After skiing, we headed into the village for ice cream and a trip to the shops before tea at the hotel, followed by games and some much needed sleep. 
On Day 3 we hit the slopes full of beans after a hearty breakfast. As most of us had mastered our snow ploughs and some of us had even begun parallel turning, we ventured down our first red slope – an experience which was both terrifying and exhilarating, We even managed to significantly reduce our falls. The notable progress everyone made each day was truly remarkable. After lunch we had the chance to try the Fun Slope, a run with a mixture of tunnels, turns and moguls, and as the name suggests a whole load of fun. We then returned to the hotel for a tasty tea and entertaining quiz night!  
The following day we headed back up the mountain. Groups raced across the two-valley ski safari over to the town of Wagrain in a hopeful attempt to make it to the infamous 'donut place'. Those lucky enough to make it replenished their energy with delicious sweet and savoury donuts for lunch. Meanwhile other groups tested their limits on the thrilling speed-test. Apres ski we enjoyed a round of mini golf and a mini disco. We then went to bed exhausted after another fun-filled day. 
Our final day of skiing was another action packed day, filled with various fun activities such as human slaloms, our favourite red runs, even more fun on the Fun Slope and one last attempt at the speed test in a bid to beat our previous scores – each accompanied by a session of chair lift karaoke. All before heading back down the mountain to the beginners' slope for an awards presentation from our ski instructors. After saying our goodbyes and returning our ski gear we made our way back to the hotel to pack. Back at the hotel, we had an awards evening where we celebrated all of the wonderful achievements everyone had made during the trip, the perfect way to conclude a fantastic holiday. 
 I am incredibly grateful to have been given the opportunity to experience this wonderful trip, I had the most amazing time and made lots of beautiful memories which I will carry forward for many years to come! A huge thanks to all of the amazing teachers and instructors who made this trip possible!