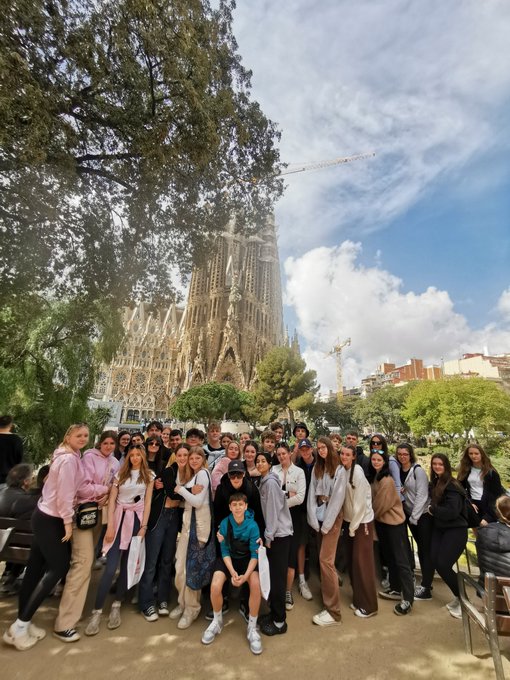 After a long, early and slightly delayed morning we arrived in Barcelona and went straight into the action by taking a trip to Museu de la Xocolata (Chocolate Museum) where we indulged in making lollipops out of a mix of dark and white chocolate. However this being a museum we also got to explore how they make the chocolate sculptures without the chocolate melting. There were designs which included Star Wars and obviously FC Barcelona, with a mix of other iconic attractions around the city.
On the second day of our trip we visited the Spotify Camp Nou Stadium. We first arrived in the club's museum which consisted of numerous trophies, medals, football boots, shirts from players such as Lionel Messi and Luis Suarez and a run-down of the club's history. After a look around the museum we eventually found the entrance to the second layer of seats in the 99,354-seater stadium. Standing at the top of the stairs looking down onto the massive pitch was something you can't describe with words. After a few pictures and videos we went to ground level which included the Home and Away teams' changing rooms (we may or may not have made a squad on the whiteboard in the away ends changing room – but we don't speak about that). After the cheeky managerial roles we all played it was time to visit the press room. There were about 7-8 rows of tables and chairs with the obvious table and chairs at the front where the managers would sit for pre and post-match interviews. Whether the rumours are true or not I don't know, but I heard Mr Mitchell had signed a contract to play for the club on that very table. We then moved through some hallways with the club's history again on display which led us to a few steps down to the tunnel which all the footballers have to walk through to get to the pitch. Although for obvious reasons we weren't allowed to go onto the pitch you were so close you could almost touch it. We then arrived at the club shop and of course had to buy a shirt as memorabilia.
After our visit to Camp Nou, we continued with the sporting theme and visited the Olympic Parc which is situated in the Montjuic area of Barcelona. We were certainly getting our steps in and after a walk past the Arc de Triomf (yes, there's one in Barcelona too) we arrived at the Magic Fountains. These were beautiful and lead the way to a spectacular art gallery. At this point we stopped for a rest around one of the fountains. It was very warm and some of us had a little sleep, however, most of the boys in the group went for a game of football with Mr Mitchell – it was great fun.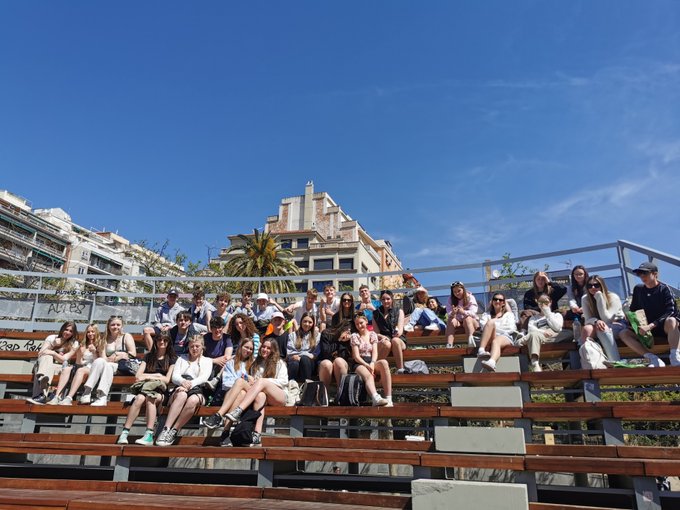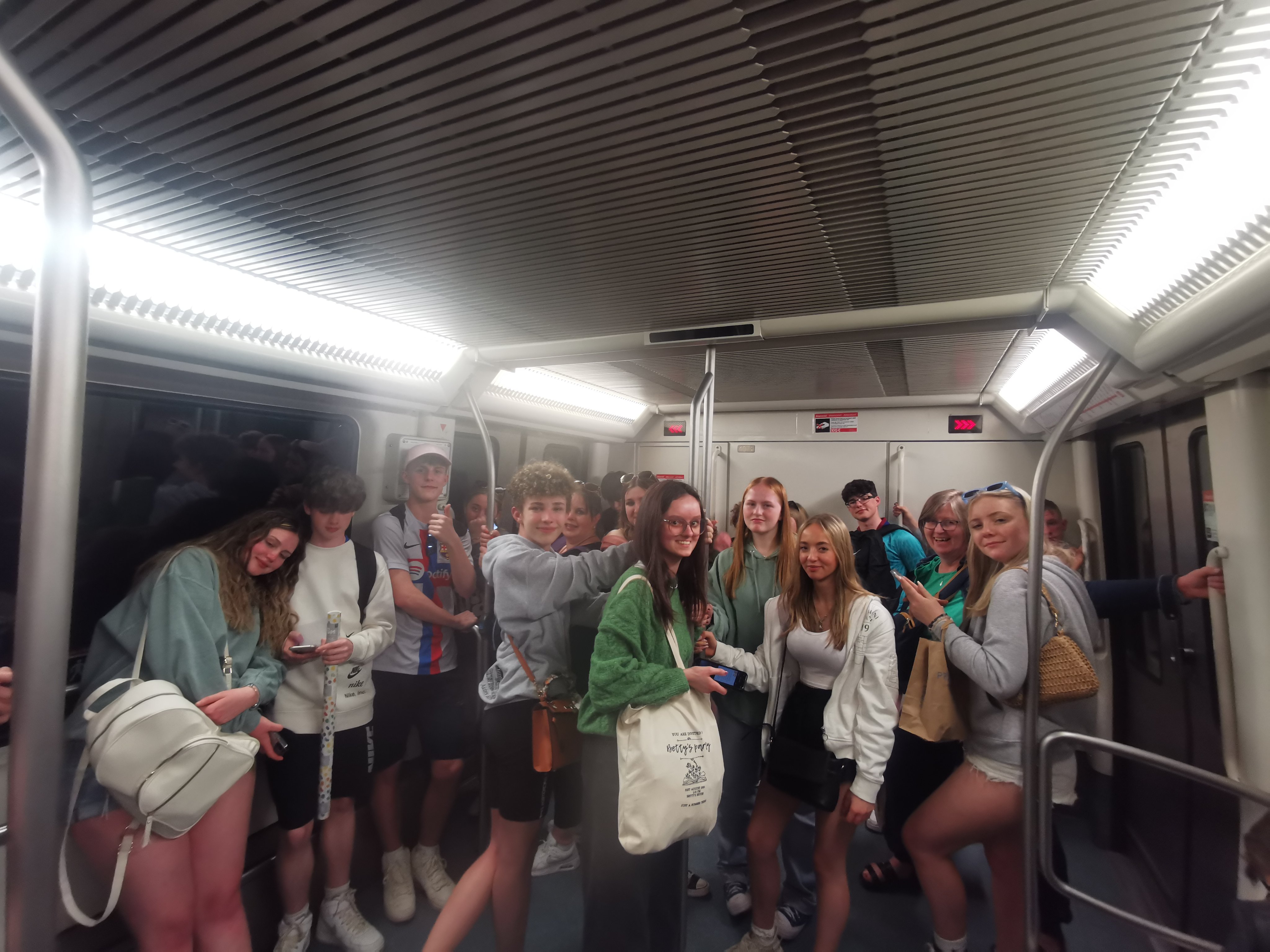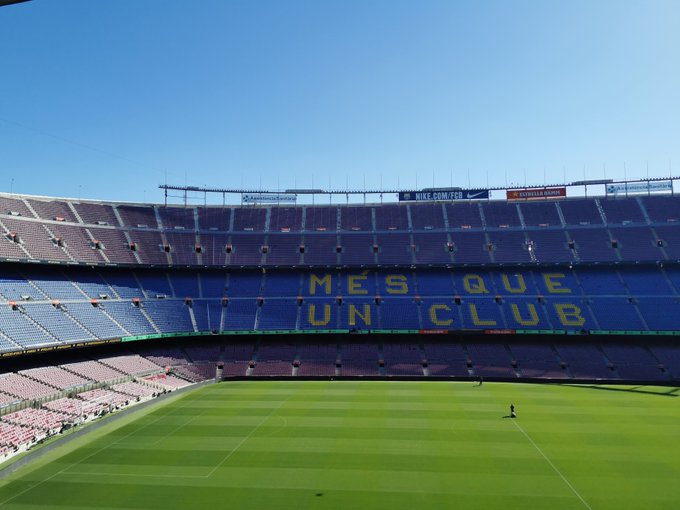 We had a great day and as we had walked over 21,000 steps we were more than ready for our evening meal. Today we were dining at Hard Rock Café. We had the choice of burgers and salads followed by ice-cream. It was a great experience and for those of us fortunate enough to have been on the London trip last summer, we were clocking up the Hard Rock Cafés we had visited. Once we had eaten, we had a short time to do a bit of shopping. Right next door was a huge Primark, so some of us could not resist the temptation. After this we made our way back to the hostel for Mrs Rossall's famous games night. We had so much fun playing snatch-back bingo on the roof terrace winning some of the funniest prizes!
Wednesday was soon upon us. We met in the café for breakfast at 8am before setting off to Parc Guell. We were getting quite expert at using the metro and knew where we should be getting on and off. Parc Guell was quite a walk from the station involving a rather steep climb. The Spanish had this sorted though and there were escalators instead of pavements for us to go up. Parc Guell was amazing, such an interesting place with the most amazing views across Barcelona. We could even make out where we were staying. Parc Guell is a municipal park that was designed by Antoni Gaudi between 1900 and 1914. It was absolutely stunning with tiled mosaics decorating the walls and buildings and, if you looked carefully, you could see parakeets nesting in the trees. After a wonderful few hours it was time to make our descent and move onto our next activity.
We had a picnic lunch in a local park, sat amongst the locals on the modern amphitheatre. It was great to earwig into conversations and try and translate as much Spanish as we could. Once we had refuelled we continued our journey to The Gothic Quarter and Las Rambla. We spent time in La Boqueria Market, which was absolutely amazing – the fruits and vegetables on display were so beautiful, some we had never seen before. At every turn there was something to tempt us: tapas, ice-cream, nuts, meats and so much more. Most of us couldn't resist the ice-cream so treated ourselves to a well needed ice cold delight. From here, we ventured onto Las Rambla and then into the Gothic Quarter, the atmosphere was exciting with lots of people dashing around, street entertainers and artists were all around us. It was a treat for the senses; we wished we could have had longer in this area.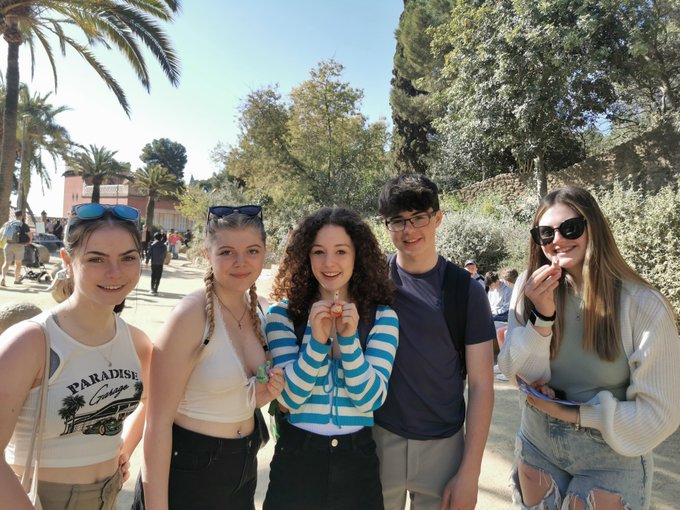 Once we had finished our afternoon activities we went back to the hostel to get ourselves ready. Tonight was our big night out, we were going back to the Gothic Quarter to have a traditional tapas meal and watch a Flamenco show. There was a lot of choice at the tapas restaurant and if you chose the traditional Spanish dishes it was a really authentic experience. We tried our best to order our meals in Spanish: Miss Smith and Mr Mitchell were on hand to help out if needed. We loved listening to them communicate with the waiters, it was great to hear. Once we had eaten, it was time to go to the Flamenco Show, but before we did, we discovered a park outside the restaurant. We couldn't resist, even the teachers let their hair down and had a bounce on the trampoline! The Flamenco Show was a truly Spanish experience, a story told through music, song and dance. It was very passionate, and you could feel the mood change in accordance with the movement of the dancers and the music of the guitarists and singers. The costumes were beautifully vibrant and allowed the dancers to express themselves by sweeping their skirts and shawls. We had a fantastic, traditional Spanish evening, one we will remember for a long time to come.
It was soon our last day; all good things must come to an end! We packed our bags after breakfast and were able to leave them at the hostel before embarking on our final day's adventures. Today we were going to La Sagrada Familia, the unfinished Church designed by Gaudi. We were met at the Cathedral entrance and taken into a room for a welcome talk. It was interesting to hear about how Gaudi designed the building and we couldn't wait to experience his amazing architecture. Once we had had our introduction our fabulous guide took us around the side to enter the cathedral via the Passion Façade. This entrance was awe inspiring. It is a spectacular representation of the death and resurrection of Jesus Christ. Nothing could have prepared us for the feeling you got when entering the cathedral; it truly took your breath away, bringing a tear to your eye. Gaudi planned La Sagrada Familia around nature. This was apparent when you entered and saw how the light cascaded through the stained-glass windows, giving the sense of a different season depending on where you faced. As we walked through the cavernous building not knowing where to look next, the organ began to play! We were so lucky to experience this, it was beautiful. We exited through the Nativity Façade. The doors were so beautiful, the bronze gate being inspired by nature and is full of metal leaves, flowers and insects. There was so much to see and take in. I'm sure if you visited every day, you would still see something new.
It was getting close to lunchtime, as the weather was so beautiful, the teachers decided that we would go to LIDL to buy food for a picnic in the park. We took our favourite foods over to Le Arc de Triomf to sit in the sun and enjoy our final meal. It was great to sit in the sun and very soon we were to be accompanied by buskers serenading us as we ate. After lunch we walked across to Passeig de Lluis Companys parc. We planned to play rounders but unfortunately it was far too busy. We were allowed to have some free time to look at the amazing fountain and buy an ice cream if we wanted. We could hear music coming from the bandstand and, on further investigation, we saw a group of people dancing, it was lovely to behold. The people were so welcoming and allowed us to join in, it was a lovely end to our stay in Barcelona.
We all had a great holiday, embracing the Spanish culture, seeing amazing sights and speaking as much of the language as we could. Thanks to Miss Smith for organising a most memorable trip and to the other staff for giving up their holiday to take us. We made memories to last a life time.